Contact us today to speak to a team member about how to receive Nazareth Housing services:
The Safety Net for Families
---
Every day, low-income New Yorkers have urgent needs and no safety net. When Superstorm Sandy hit in 2012, many families found themselves in economic crisis due to job loss stemming from the brutal storm. Nazareth Housing responded by creating special programs that addressed urgent needs in the community. Nazareth Housing soon discovered that the needs met by these programs were ongoing, and many members of the community required long-term assistance.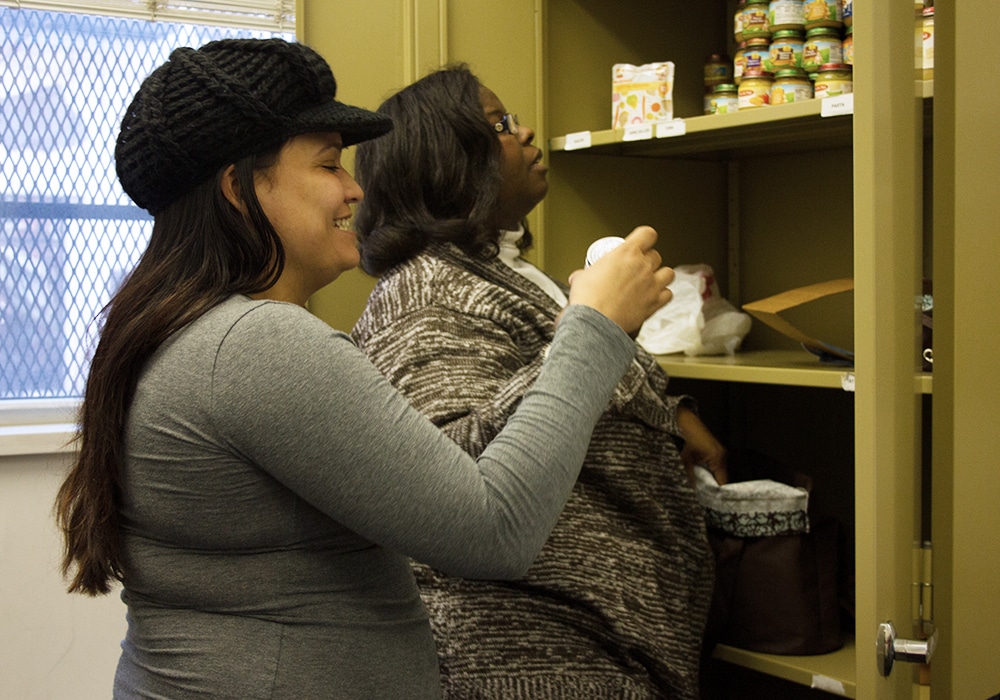 Louise's Pantry supplies food, clothing, toiletries, and urgent needs assistance to low-income families and seniors as well as homeless individuals living in the Lower East Side and the Bronx. Serving over 500 individuals per month, Louise's Pantry meets the nutritional demand of our local communities and provides access to services such as:
Housing counseling
Urgent needs assistance
Nutritional workshops
Financial literacy workshops
Job readiness workshops
Youth programming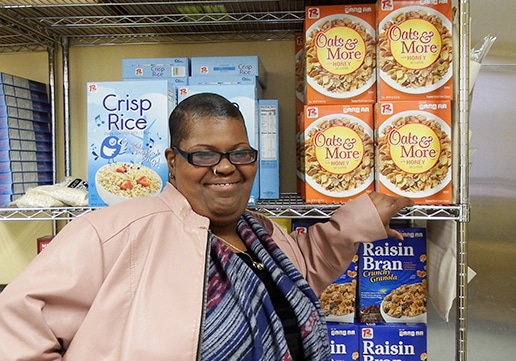 Louise's Pantry is named for Louise Antinoro, mother of Anna Fantaci. We are grateful to the Fantaci family for helping Nazareth Housing launch Louise's Pantry as an expansion of our food security services following Superstorm Sandy. Louise's Pantry is "more than food" and provides our neighbors experiencing food insecurity a conduit for building family well-being including case management, nutrition and health workshops.
Learn more about Louise Antinoro
Organize a Food Drive!
Organizing a food drive or making a non-perishable food donation is a great way to help curb food insecurity in New York City.
Contact a team member at (646) 713-2681

---
Learn More
meals provided by Louise's Pantry each year
Louise's Pantry – Lower East Side
Tuesday's
10AM
206 East 4th St. (Blue door)
(646) 713-2754
Louise's Pantry – Bronx
Wednesday's
8:30AM
406 East 184th St, Bronx, NY
(646) 713-2732
Furniture Donation Service
---
Nazareth Housing accepts new and used furniture in good condition as well as household goods for donation to families in need.
Pick ups generally occur on Thursdays
We request a two-week period from the desired pick-up date due to high volume and scheduling
Free pick up of furniture in Manhattan is from Canal Street north to 95th Street. Exceptions are limited.
We typically pick up furniture from walk-ups if the pick-up is on the 2rd floor or below and the items weigh less than 80 pounds and/or it can be broken down into separate pieces, i.e.: a bed frame
We request pictures of items for size verification
We can only pick up what has been included in the pick up form.
To donate furniture, fill out the form below:
Donation Form
Items we can accept
Bed Frames
Sofas
Dining/End Tables
A/C units (Less than three years old)
Lighting
Chairs (All types except folding chairs)
Dressers
Bed and Bath Linens/Blankets (Laundered or dry cleaned if gently used)
Plates and glasses (must be boxed)
Cookware/Utensils
Small kitchen appliances (good working order or gently used)
Toys
*Larger appliances are accepted only after review of photographs and dimensions
Items we cannot accept
Used mattresses
Items missing parts (e.g. shelves)
Children's items (highchairs, strollers, etc.)
Sofa beds
Stained or well-worn items
Cribs
Glass furniture
Broken or chipped utensils or tableware
Damaged wood items
Televisions
Old electronics
Used toys
A note about Furniture Donations and Gifts-In-Kind: By law, non-profit organizations cannot provide a donor with the dollar value of an In-Kind gift. Such valuations need to be professionally assessed and certified elsewhere, if possible, which is the responsibility of the donor (tax filer). In instances where time and service are donated, the IRS Publication 526 clearly states, "You cannot deduct the value of your time or services." For more information, please review IRS Publication 526: Charitable Contributions.
We are grateful to the Jim Jacobs Charitable Foundation for its ongoing support of the Furniture Donation Service.