A Disaster Preparedness Handbook for HDFCs, Co-ops, and other Buildings on the Lower East Side
One of the lessons learned from Superstorm Sandy is that planning and organizing can make all the difference in a disaster. Buildings, community organizations, houses of worship, and other groups that had strong social ties and emergency plans in place were much better prepared to survive and thrive after the storm.
This handbook is designed to help you and your neighbors think critically about your building, plan for emergencies, and enhance your building's resiliency. It includes the following sections, which should be completed together as a group:
OUR BUILDING
Important information about your building, including its hurricane evacuation zone, languages spoken by tenants, and more.
CREATING AN EMERGENCY TASK FORCE
Suggested organizational structure for tenants working on disaster preparedness in your building.
VULNERABILITY ASSESSMENT
Answering these questions will help get you thinking about the challenges facing your building and how to address them.
OUR DISASTER PLAN
This template outlines tasks to be completed by your Emergency Task Force Pre-Disaster, 72 Hours Pre-Disaster, 24 Hours Pre-Disaster, and Post-Disaster.
RESILIENCY STRATEGIES
Tips and best practices regarding back-up power, communications, community resiliency, and emergency supplies.
CHECKLIST & NEXT STEPS
Helps you keep track of what you've accomplished and what still needs to be done.
ADDITIONAL RESOURCES
Information and links to various resources including retrofit programs, sample disaster plans, community organizations, and more.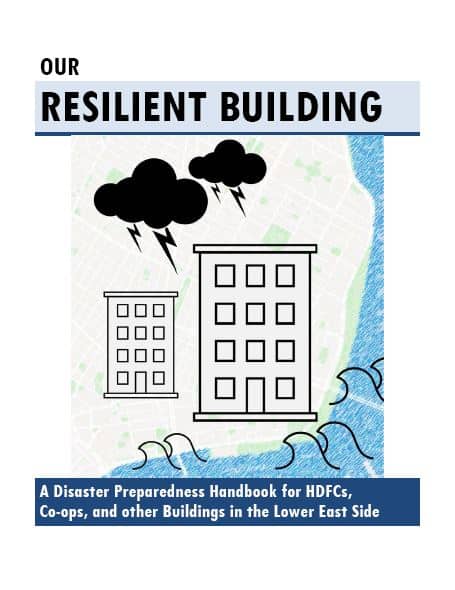 Download a Copy
Prepare your building for an emergency.
---
Download