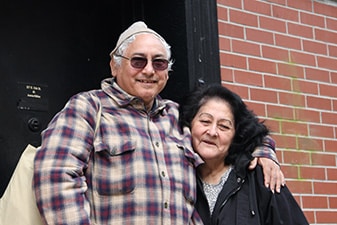 Services Used
Housing Counseling
Financial Coaching
Credit Repair
In August 2015 Mr. N and his wife were priced out of their Brooklyn apartment by new owners. The rent increase, plus hospital bills from a family hardship a year earlier, meant the couple were forced to become homeless.
After seven months of staying separately with family and friends Mr. N contacted Nazareth Housing for guidance and housing assistance. A Nazareth Housing client services and prevention specialist met with the couple and together developed a step-by-step housing action plan.
Mr. N and his wife also met with the financial coach and learned that they had an unsatisfied judgment on their credit history that would negatively affect their housing applications. The couple met monthly with the financial coach who assisted them with removing the unsatisfied judgment and rebuilding their credit.
On March 1, 2016 Mr. N and his wife happily moved into their newly developed apartment building. The couple is now stably housed in Brooklyn.
Ms. A arrived at Nazareth Housing shelter as an unemployed single mother of four boys having survived domestic violence. Using an array of supportive services, Nazareth Housing assisted her immigration regularization and arranged internship programs until she received permission to work in the United States. Ms. A earned a paid position within a program in the Mayor's Office to Combat Domestic Violence.
She and her boys are now living in their own apartment with the help of a domestic violence LINC housing subsidy. With our ongoing support, Ms. A is building her economic independence and her kids are succeeding in school.
Services Used
Housing Counseling
Louise's Pantry
Children's Programming
Services Used
Housing Counseling
Independent Living Plan
Employment Readiness
From the day Ms. H arrived at Nazareth Housing, she was determined to be a success. A young mother of four young children, Ms. H met regularly with her Nazareth Housing case manager to develop her own unique Independent Living Plan that would identify and alleviate barriers to safe housing and meaningful employment.
With the help of her case manager, Ms. H completed a rigorous training program to become a home health aide and soon secured a job in that field. Soon after, Ms. H qualified for the LINC (Living in Communities) subsidy program and moved into permanent housing. Ms. H and her children spent only six months at Thorpe House!