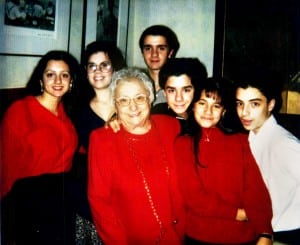 [dropcap]L[/dropcap] ouiseAntinoro was born into an Italian family and was one of 13 children. With a strong respect for education, a talent for designing and making dresses, and a passion for cooking, Louise was an amazing mother of four children and wife to her husband Anthony.
As her daughter, Anna Fantaci, remembers: "My mother is an inspiration to us, and we hope to have the strength and generosity for which she is remembered."
Louise is a great reminder of an immigrant woman who came to America to create a loving, prosperous life for herself and the generations to follow, much like many of the women who we serve each day.
Louise Antinoro's Recipes
Pasta Agio Olio
Ingredients (serves four):
Olive oil
5-6 cloves garlic, thinly sliced
Red Pepper Flakes to taste
1 pint cherry tomatoes or 2 Medium Tomatoes, chopped
1 lb Linguini or Spaghetti
Grated Parmesan or Romano
Instructions
01

Bring pot of salted water to boil

02

In small pan, sauté sliced garlic and pepper flakes until garlic turns yellow. Toss in the chopped tomatoes and simmer for 30 minutes.

03

Ten minutes before the sauce us done, toss pasta into boiling water until done. Drain paste and toss in sauce. Mix and Serve, and top with grated cheese, if desired.
Eggs in Tomato Sauce
Ingredients (serves four):
(2) cloves garlic
(1) 28oz can crushed tomatoes
2 tbsp olive oil
Salt and pepper
6-8 eggs
Grated Italian cheese (optional)
Toasted country bread
Instructions
01

Slice garlic thinly and sauté in oil

02

When garlic turns yellow, toss in tomatoes

03

Add chopped basil, salt and pepper to taste

04

Cover and simmer for 20 minutes

05

Break eggs into tomato sauce and cover

06

Cook eggs for approximately 3-5 minutes to taste

07

Serve with toasted bread, and sprinkle cheese over eggs, if desired
Steak Pizzaiola
Ingredients (serves four):
4 chuck steaks 1″ thick
1 can chopped tomatoes
Salt and pepper (or red chili flakes)
3-4 cloves garlic thinly sliced or chopped fine
Oregano
Oil
Loaf of bread as side
Instructions
01

Sprinkle steaks with salt and pepper to taste

02

Fry stakes in oil, one side at a time. Turn, and while sautéing, add garlic

03

When garlic is light brown, toss in tomatoes and top with oregano

04

Cover and cook for 30 minutes. Serve with crusty bread
Lentil Soup
Ingredients (serves four):
1 large onion
2 tbsp olive oil
4 cloves garlic, chopped
3 stalks celery, chopped
3 carrots, chopped
1lb lentils
1 small (10-14oz) can crushed tomatoes
2 quarts water or chicken stock
1/2 tsp cumin
1 tsp dried oregano
1 tsp dried basil
1 bay leaf
Salt and pepper
(Optional) 1 cup spinach or kale, finely chopped
Instructions
01

In large pot , heat oil over medium heat

02

Add onions, carrots, and celery and saute until onion softens (approx. 8 to 10 minutes)

03

Add Garlic, oregano, basil, cumin, and bay leaf and cook for 2-3 minutes more

04

Add lentils with tomatoes and liquid (either water or water and chicken stock)

05

Bring to boil and reduce heat to low and cook for about an hour

06

If using spinach and or kale, put in, stir and cook until ready (5 minutes for spinach or 10 minutes for kale)

07

Season to taste with salt and pepper. (Removes bay leaf before seasoning)